Introducing the
Qore Data Factory
The combination of automation and researchers allows us
to reach up to 99% data accuracy for all our published data
The processes of extracting data from diverse sources & integrating it into repositories that are many more times more valuable than the independent parts
The DaaS approach focuses on provisioning data from a variety of sources on demand through APIs. Designed to simplify access to data, it delivers curated datasets or streams of data to be consumed in a range of format
RPA is a software technology that makes it easy to build, deploy & manage software robots to emulate humans actions interacting with digital systems & software
Data integration is the practice of consolidating data from disparate sources into a single dataset with the ultimate goal of providing users with consistent access & delivery of data across a spectrum of subjects & structure types
Introducing the
Qore Data Factory
The combination of automation and researchers allows us to reach up to 99% data accuracy for all our published data
Team of researchers and stewards curating data sets
The processes of extracting data from diverse sources & integrating it into repositories that are many more times more valuable than the independent parts
Develop next generation Robotic Process Automation
RPA is a software technology that makes it easy to build, deploy & manage software robots to emulate humans actions interacting with digital systems & software
The DaaS approach focuses on provisioning data from a variety of sources on demand through APIs. Designed to simplify access to data, it delivers curated datasets or streams of data to be consumed in a range of format
Data integration is the practice of consolidating data from disparate sources into a single dataset with the ultimate goal of providing users with consistent access & delivery of data across a spectrum of subjects & structure types
Traditional
Store Code
in Required
Format
Validate &
QA Data
Accuracy
All handled by Data Stewards
Qore
Write
Code for Extraction
Data Steward
Store Code
in Required Format
AI
Validate &
QA Data
Accuracy
Data Steward
Future Data
Validation
& QA
Machine Learning / RPA
Integrate
Data into
Library
AI
Handles Client API Request to Library for Data
AI
Machine Learning /
Robotic Process Automation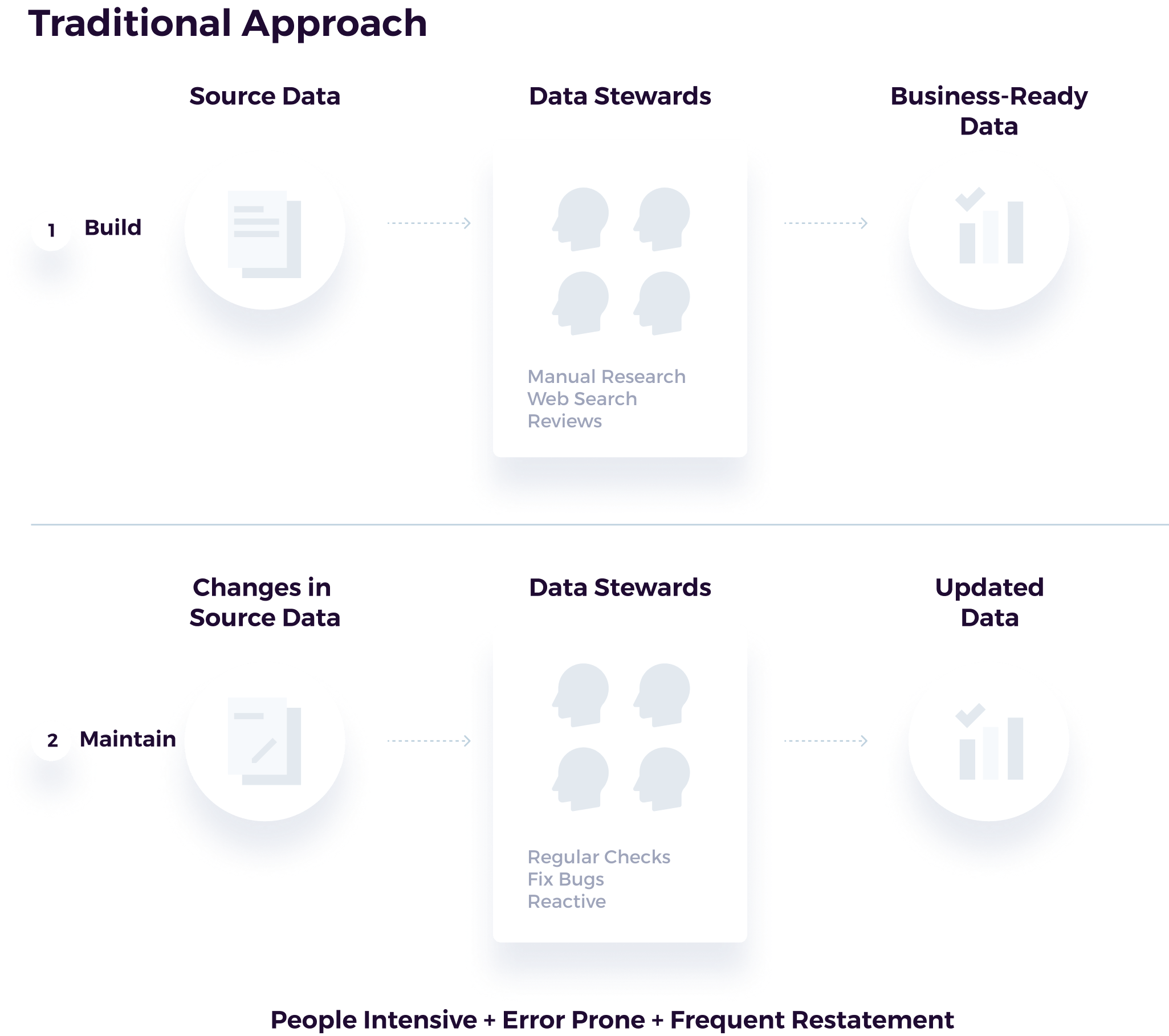 is designed to sort through inconsistent data formats, undefined relationships, and ambiguous procedures to create standardized formats, control of data entry, defined taxonomy guidelines and real time updates of information and industry best practices.
FORUM™ provides a strong data governance framework that can tackle problems of global scale such as the unprecedented growth of unstructured data, the rise of information and compliance mandates.
enables organizations to implement security and governance policies with sustained operations, and eliminates information silos that are created by integration of different data sets.